Bleeding Hearts
"You will find something you love on "BLEEDING HEARTS"
Genre: Rock
Kevin Walton's finest album
BLEEDING HEARTS is more than a collection of recorded works.  It is regarded by many as the finest album that Kevin Walton has released to date.  The listener is taken on a journey of the heart and soul, with the fundamental and rare ingredient being Walton's ability to connect with you on a core level.  This selection of songs trigger those emotions and images that draw you in like a water colour painting, slowly enveloping you in their lyrical and musical beauty and revealing something new with each listen.  You will find something you love on BLEEDING HEARTS.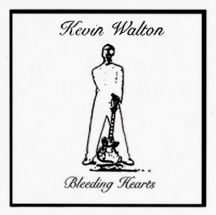 Preview
Orchid
Bleeding Hearts - Orchid
Lyrics
Orchid, don't blow away tonight...
The Wave
Bleeding hearts - The Wave
On a wave I'll ride with you...
Woman
Bleeding Hearts - Woman
Woman, I give you lovin, I give you...
Maybe
Bleeding hearts - Maybe
And if I stayed here tonight...
If You Want
Beeding Hearts - If You Want
And if you want my love...
Lipstick
Bleeding Hearts - Lipstick
Your lips stick on my mind
Dreams
Bleeding Hearts - Dreams
Sound of Angels
Bleeding Hearts - Sound of Angels
Seven
Bleeding Hearts - Seven
Now its down to one and two...
Lost Without You
Bleeding Hearts - Lost Without You
You burst into my life...
Bed of Fire
Bleeding Hearts - Bed of Fire
So you've found your bed of fire...
"Maybe" - is perhaps the pick of the bunch!  With a sound that almost reminds one of COLDPLAY and lyrics so heartfelt, by the time the chorus gets around you are hooked and singing like a member of the cathedral choir, only wanting one thing...  to play it again!  Maybe is simply a beautiful expression of one's love and appreciation for another.  Brilliant!
"Bed Of Fire" - Piano features more predominantly in Kevin Walton's recordings on this album.  As a result songs like Bed of Fire come to life with a warmth and depth that could otherwise be lost with different instrumentation.  This track has the right dynamic, the right blend.  A simple beginning building to an emotionally filled journey on a beautifully constructed bed of sound.  Melody complimenting melody.
There is almost a touch of RICKIE LEE JONES in Bed of Fire with it's highs and lows. Enjoy!
"Seven" - Rolling on a beach with you, your lips melt into mine.  Every heartbeat tells me this was meant to be.  With lyrics like these it`s impossible not to be drawn into the smooth sensuality of Walton's web.  The effortless flow and grace of Seven, combined with a voice that truly oozes passion and sweet desire, makes for something straight out of a romantic blockbuster movie.
Seven is yet another example of why Kevin Walton is growing in popularity.
"Sound Of Angels" - has that light, breezy feel to it.  You can`t help singing along with this one!   A feel good song all the way! With it`s FLEETWOOD MAC shuffle and infectious/catchy chorus it easily finds a place on Bleeding Hearts.